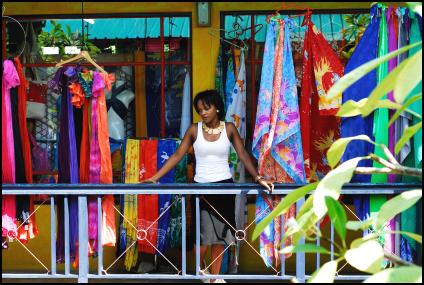 Seychelles often gets referred to as the "big little world", and this not without good reason. Whilst being a very small island nation, there is very little the country is does not have, do, or is involved in. The Seychelles leadership have long recognised that they cannot rely merely on tourism for the GDP of the economy, and other industries need to be developed. In fact, developing industry and tourism growth certainly work in conjunction with each other, with the one helping the other.


One such example of this is the fashion and textile industry. Whilst Seychelles is not normally associated with fashion or can be called a fashion hotspot, it might very well be one day. A textiles industry that supports local shops, markets and even export coupled with a plethora of young up and coming designers and exotic models are ensuring that. Combine that with the stunning backdrop the Seychelles islands provides fashion photographers, it is no surprise that Seychelles has been awarded with its first annual world fashion week, to be held later this year.

The event will help to highlight the emerging fashion talent of the island nation. It is a part of world fashion week, an organisation which acts as a platform for fashion talent around the world and helps smaller nations like the Seychelles gain recognition in the global fashion market. The organisation has been in talks with local government and hopes to challenge young designers. Each designer will be given a variety of themes chosen by world fashion week, and they will then have to come up with 20 looks per theme to display at the up and coming fashion week. Fashion week will be positive for not only designers but retailers and local models. It will also bring awareness to the developing trade of the textile industry which already exists in the Seychelles as well as attract additional tourism which will therefore help the national economy.

In addition to this, the re-launch of the extremely popular Miss Seychelles pageant in 2012 after a 4 year absence will certainly further inspire local models, designers, and manufacturers to up their up the game with the possibility of being recognised on a global scale. The National Contest is conducted in agreement with Miss World Limited, the owners and organisers of the Miss World Contest to elect "Miss World". The National Contest is also an official preliminary contest to select a representative to participate in the Miss World Contest, meaning the event truly has the potential for recognition on a global scale.

Talent is often found in the most unlikely of places, and can be the source of inspiration for thousands. However, talent will only remain as potential until it is developed, and that is now happening in the Seychelles fashion industry. So who knows, perhaps the next superstar designer or supermodel will come from the Seychelles, so keep your eyes open!

Should you wish to pay this "big little world" a visit, contact us www.seychellesyachtcharter.com