Event:
Cultural Bazars

Date:
Throughout July/August 2013

Location:
Various locations throughout Mahe

Organizer:
District Administrator (Tel: +248 2 78 34 13)

About the event:
A unique cultural and shopping experience where you can meet the Seychellois people, enjoy Creole music, and have a taste of the island style way of life.

Bazar Labrinn is a legendary bazar specializing in fruit, vegetables, and other local delicacies. This is also a great place to pick up souvenirs and sample traditional foods and drink, all the while enjoying an authentic Seychellois ambience.

Bazar Ovan Taking place in the southern part of Mahe, this bazar offers a great opportunity for both visitors and locals alike to experience a true celebration of the vibrant Creole culture, all set to the backdrop of Seychellois Creole music.

Victoria Bazar provides an ambience true to the Seychellois Creole lifestyle, where anything from arts and crafts to exotic culinary delicacies and beverages can be purchased. And of course it wouldn't be complete without local musicians providing the soundtrack!
Event:
Seychelles Sea Turtle Festival
Date:
9 - 10 August 2013

Location:
Various locations on Mahe

Organiser:
Mr. Chris Mason Parker (+248 2 57 57 70)

About the event:
Global Vision International (GVI) and the Marine Conservation Society Seychelles (MCSS) with the Ministry of Environment and Energy and the Ministry of Education are organising the first Seychelles Sea Turtle Festival on Friday 9th and Saturday 10th August 2013. Friday's opening ceremony will be held at the National Theatre and Saturday's fun day will be on the waterfront area in Beau Vallon.

The aim of the turtle festival is to raise public awareness of issues relating to marine turtle conservation within the Seychelles. The event will be an opportunity to highlight existing initiatives, promote future partnerships and celebrate the Seychelles marine turtle population.

Event:
Feast of the Assumption of Mary

Date:
15 August 2013

Location:
La Digue

Organiser:
La Digue Board (+248 4 23 45 96)

About the event:
The Feast of the Assumption of Mary is dedicated to the church of La Digue and is very popular with Seychellois from all islands who flock to the island for the occasion.

For further information please contact the La Digue Board on telephone number provided above.
Event:


Southeast Monsoon Sailfish Tournament

Date:
31 August 2013

Location:
Mahe

Organiser:
Marine Charter Association (+248 4 32 21 26)

About the event:
Fishing tournaments are always an exciting event in the Seychelles, especially with pride and reputations at stake! This a 1-day trolling-only tournament from 05h00 to 17h00. Please contact the Marine Charter Association for entry forms and tournament rules at email: christophe.houareau@huntdeltel.com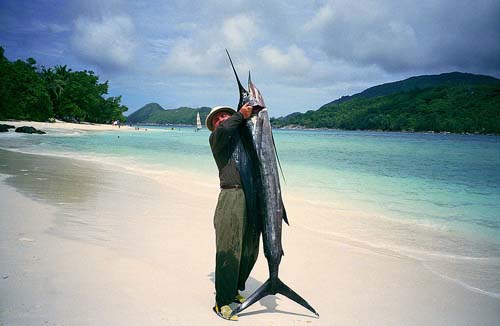 Event:


Vinayagar Chadurthi



Date:


September 2013



Location:


Hindu Temple, Victoria, Mahe

Organiser:
ARULMIKUNAVASAKTHI VINAYAGAR Temple (+248 4 32 47 01)

About the event:
A religious festival celebrated by Hindu communities worldwide to mark the anniversary of 'Lord Vinayagar', The Elephant God.
Event:


Seychelles Round Table Regatta



Date:


27-29 September 2013



Location:


Beau Vallon Beach, Mahe

Organiser:
Round Table Seychelles (+248 2 72 70 07)



About the event:


The Round Table Regatta has become an important national event in the Island's calendar. The event will span over one weekend, from the 27th to the 29th September 2013 and takes place on the popular Beau Vallon beach front. The event's jam-packed schedule includes numerous sports competitions, live performances by local artists as well as many fairground games. The weekend culminates with a hilarious 'Greasy Pole Contest', where competitors struggle to reach a cash prize fixed on top of a 6-metre wooden pole smothered in grease. Last, but far from least, is the all-important lottery draw at 18h00 on Regatta Sunday.

Local and International companies alike support the event by manning food and beverage stalls or running promotional stations where the crowds benefit from generous give-aways and reduced prices on goods. All in all, the Round Table Regatta weekend brings many Seychellois and tourists together in a high-spirited, cause-driven event. Definitely an event not to be missed!



Event:


World Tourism Day

Date:
27 September 2013

Location:
Mahe, Praslin, La Digue

Organiser:
Seychelles Tourism Board (+248 4 67 13 00)

About the event:
World Tourism Day is celebrated on the 27th September each year. Various activities held in the preceding days create an ideal forum to increase public awareness on the importance of the tourism industry in Seychelles. Contact the Seychelles Tourism Board for details.